Heat a good vegetable soups without meat, sausage products and the like. These soups do not burden the organism, which now have to deal with dehydration and fatigue. In the end, after lunch or dinner, you will feel no drowsiness, and alertness, and well-being, as you know – the key to success in everything!
In our country, cold vegetable soups without meat products prepared in the heat since time immemorial, the same can be said about many cuisines of the world – everywhere people are trying to cope with the heat, eating the most appropriate for this weather dishes.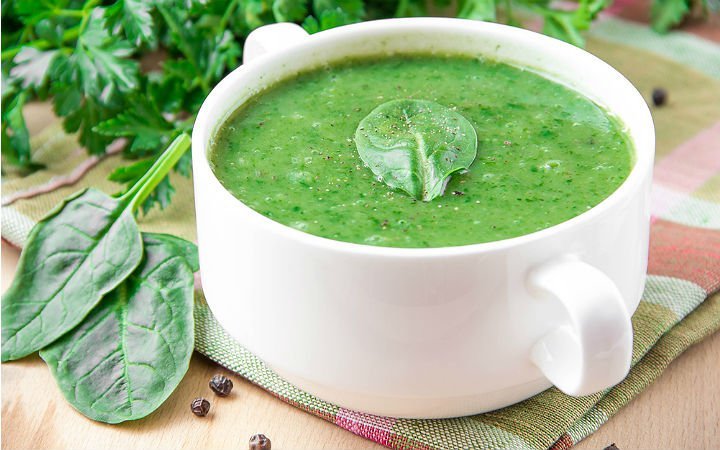 VEGETARIAN RECIPES COLD SOUPS
One of the most famous in the world of vegetarian soups was a Spanish Gazpacho is based on tomatoes. This soup is attributed to Mediterranean cuisine, it is perfectly nourishes, leaving after eating a feeling of lightness and freshness.
RECIPE COLD SOUP "GAZPACHO"
You will need: 1 kg ripe tomatoes, 2 garlic cloves and sweet red pepper, 1 lemon, bunch of thyme, cucumber, hot red pepper, white bread, 1 tbsp olive oil, red wine vinegar, Tabasco sauce, salt.
How to cook Gazpacho soup: Remove scalded with boiling water over tomatoes, peel, cut each into four pieces and remove the seeds, cut in half the peppers, remove the seeds. Remove the peel from the cucumber, slice it along with the tomatoes and pepper into small cubes. Clear, skip through the press garlic. Cut crusts from bread, dice it slice. Lay the peppers, tomatoes into a large bowl, put the cucumber and crushed with the handle of a knife sprigs thyme, garlic, bread, salt, arms a little stretch, then grind until smooth in a blender. Put in a bowl of soup 1 Cup of crushed ice to keep the soup warm until the ice is completely melted, then add the vinegar, Tabasco sauce to taste, lemon juice. Again to break through the soup, and then through a sieve to wipe and pour in the olive oil, Gazpacho is served cold.
Recipes Gazpacho there are many is one of the most simple and convenient.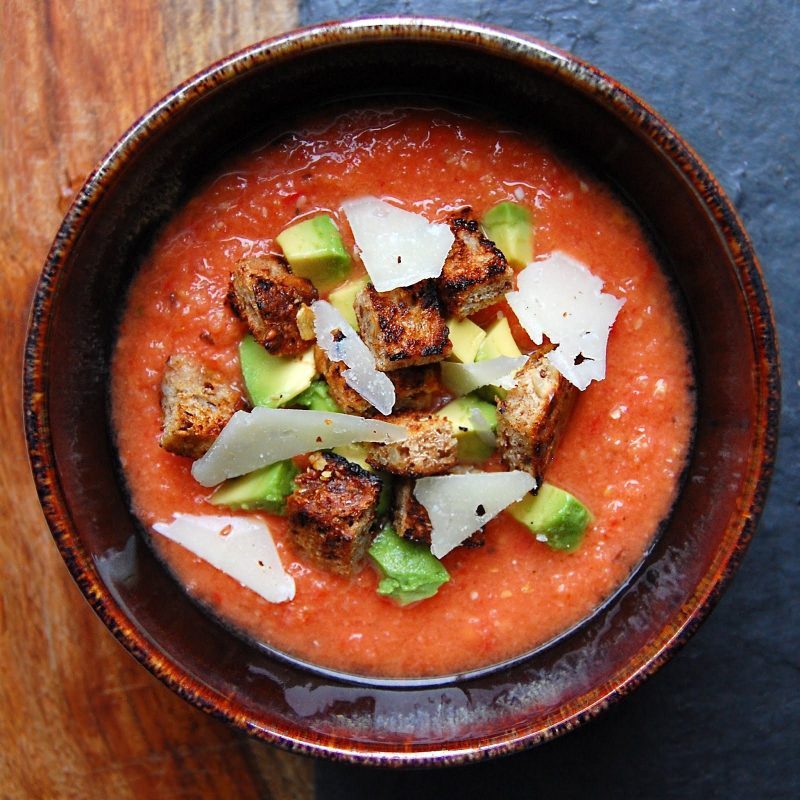 From Mediterranean dishes refer to dishes more familiar. Delicious cold soup made with red currants, tomatoes and celery.
RECIPE COLD SOUP WITH CURRANTS, CELERY AND TOMATOES
You will need: 5 ripe tomatoes, 1 bunch of greens of a celery, a glass of red currants, avocado, ½ lemon, 4 tsp of soy sauce, ice.
How to cook cold soup with currants and tomato: the Currant to pass through the juicer. Tomatoes and celery chopped up, crushed with a blender, put the mixture in a large plastic container, add the currant juice, vacuum and clean up for an hour in the cold. Avocado clean, medium-sized slice, serve onto plates, sprinkle with lemon juice, mix well. In each bowl put 4-5 pieces of ice, sprinkle with soy sauce. Strain present in the fridge weight through a sieve, pour the strained liquid in the bowl. Pepper soup and serve.
This soup turns sour and sweet, very refreshing and gives energy boost, but not everyone will be accustomed to make soup from vegetables and berries juice. More easy cold soup you can make from eggplant.
RECIPE COLD SOUP WITH EGGPLANT
You will need: 1 kilo of eggplants, 400 grams of soy sauce, 100 g onions, 60 g of garlic, 50 g of vinegar, 5 g red pepper, salt.
How to cook cold soup eggplant: Young eggplant slice thinly, steamed, boil, allow to cool, wash, dry. Finely chop the onion, garlic and plastics along with pepper, part soy sauce and vinegar and add to eggplant to soak. Pour boiled cooled water so that it covers the vegetables, add the remaining soy sauce, vinegar, salt and serve the soup.
To enhance the taste of the soup you can add chicken broth, cooked on the cube – still in these cubes, as in mushroom, meat etc. contain only the substitutes, so it is not animal product.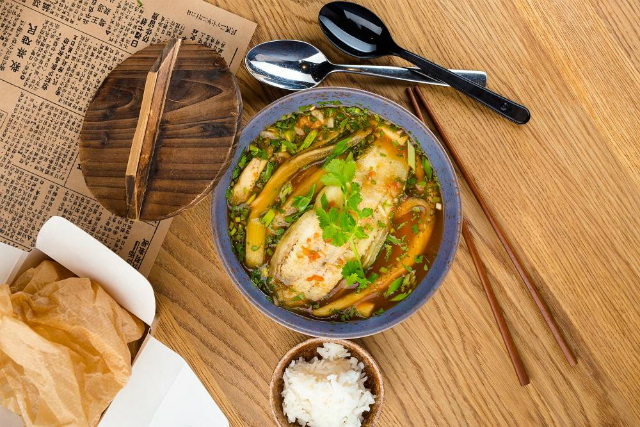 Cold soups can sometimes simultaneously act as a first dish and as a dessert. For example, this melon soup with Basil.
RECIPE SOUP WITH MELON AND BASIL
You will need: 175 ml of water, 75 g sugar, 2 small melon, 1 lime/lemon (zest grated and juice), 3 tablespoons. l. chopped Basil.
How to cook cold soup with Basil and melon: Remove seeds from melon, cut off the peel with a spoon from the pulp cut out a few balloons for decoration of the soup, the remaining flesh in a blender blend it. To combine in a saucepan water with the lime zest and sugar over low heat heat until the sugar dissolves, 2-3 minutes to boil, remove from heat, cool slightly, then pour half of the syrup to the melon, stir until smooth, gradually add the remaining syrup and lime juice to taste. The cooked mass add chopped Basil, remove the soup cold, when serving, decorate with melon balls and whole Basil leaves.
Zucchini is one of the most common types of vegetables, so cook the following soup will be resolved, probably many.
RECIPE COLD SOUP WITH ZUCCHINI AND NUTS
You will need: 500 g zucchini, 5 cups water, 1.5 cups shelled walnuts, 1 clove of garlic, 4 tbsp vinegar, 3 tbsp vegetable oil.
How to cook cold soup of zucchini and nuts: Zucchini cut into cubes and boil until tender in salted water. Crushed peanuts, with salt to grind the garlic, mix all together with oil, beat the mass with a wooden spoon, gradually pouring the vinegar. Dilute the cooked mass cooled boiled water. Add to the soup zucchini, stir and serve.
The following cold soup is prepared in our country for centuries – this is one of the traditional dishes of Russian cuisine.
RECIPE TÜRI WITH RADISH
You will need: 1 liter of water, 100 g stale rye bread, 1 radish with leaves, 3 tbsp vegetable oil, green onions, salt.
How to cook a ture with radish. Separate the tops from the radish, clean the roots, flush, on a coarse grater to RUB. Chop separately as fine as possible, green onions and radish tops. Bring to a boil the water, salt, put chopped leaves, bring to boil, allow to cool. In the prepared broth put grated radish, green onion, broken pieces of the bread, add vegetable oil and salt to taste.
In exactly the same way you can prepare the ture with a turnip or rutabaga.
One of the finest assistants in quenching thirst is mint – with it you can do a variety of homemade drinks and cooking soup.
RECIPE COLD SOUP WITH MINT AND DILL
You will need: 200 ml of water, 1 bunch of dill, dried or fresh mint, pepper, salt.
How to cook cold soup with mint. In water boil the dill, also by putting mint leaves in quantity to taste. In a mixer grind the greens in water, salt and pepper and serve the soup cold.
This soup is perfect for those who love to cook variety of dishes of greens.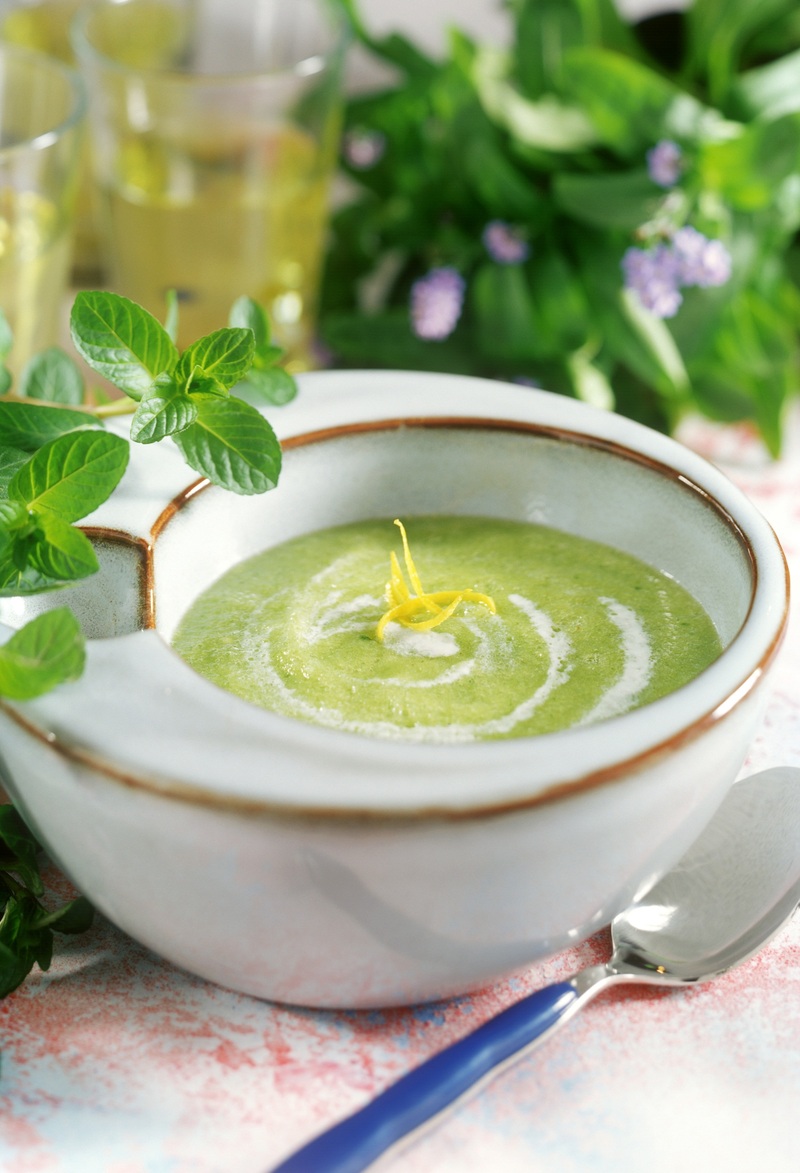 In the heat of the meat products I want not for everyone, so we hope that the recipes will be useful not only staunch vegetarians. Eat right and be healthy and full of energy, even in the sultry weather! Cook with love! econet.ru
Author: Alexander Kislenko
P. S. And remember, only by changing their consumption – together we change the world! © econet
Internet resources: 7 recipes vegetarian cold soups for hot days